The Rao lab is focused on understanding the T cell dysregulation that drives human autoimmune disease. We use a combination of high-dimensional analyses (mass cytometry, RNA-seq), cellular immunology, and murine models to identify and characterize T cell populations that are expanded in lupus, rheumatoid arthritis, and other autoimmune diseases.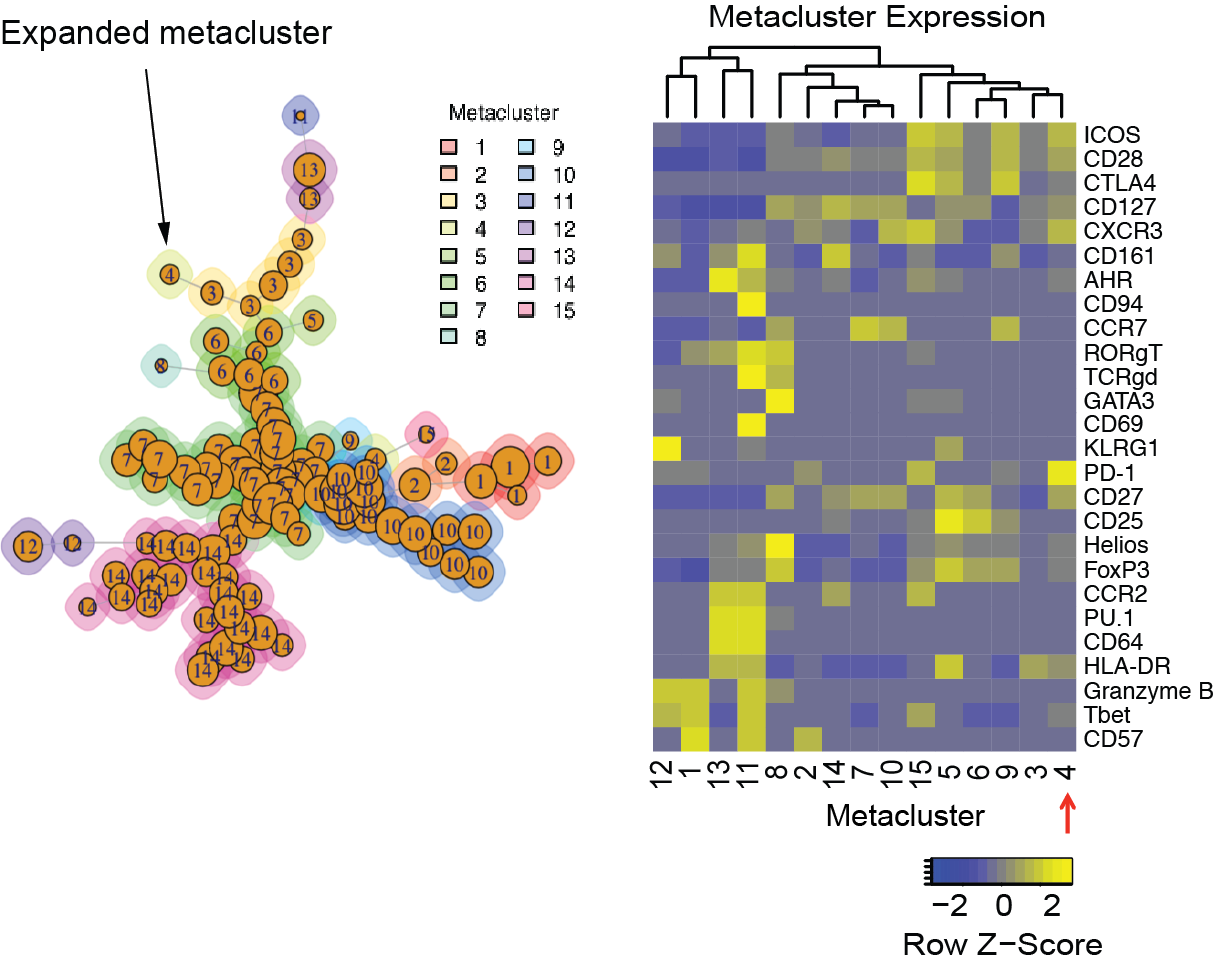 Identifying Pathologic T Cell Populations in Human Autoimmune Diseases
We are using mass cytometry (CyTOF) and single-cell RNA-seq to define the T cell populations that infiltrate the target tissues in rheumatoid arthritis and lupus. We are part of the Accelerating Medicines Partnership RA/SLE Network effort to collect and study synovium from rheumatoid arthritis patients and kidney biopsies from lupus patients by scRNA-seq. We have multiple mass cytometry studies in progress to identify abnormalities in circulating T cells in rheumatoid arthritis and lupus patients at the earliest phases of disease
Relevant recent papers
Sasaki T, Bracero S, Keegan J, …Rao DA. Longitudinal immune cell profiling in early systemic lupus erythematosus. 2022 May 29. Arthritis Rheumatol. 2022;10.1002/art.42248. doi:10.1002/art.42248
Wang R, et al. … Rao DA. Clonally expanded CD38hi cytotoxic CD8 T cells define the T cell infiltrate in checkpoint inhibitor-associated arthritis. bioRxiv, 2021.
Gao Y, … Rao DA. Patterns of T-Cell Phenotypes in Rheumatic Diseases From Single-Cell Studies of Tissue. ACR Open, 2021.
Arazi A*, Rao DA*, Berthier CC, Davidson A, Liu Y, et al. Accelerating Medicines Partnership in SLE network. The immune cell landscape in kidneys of patients with lupus nephritis. Nat Immunol, 2019  *Co-first authors.
Zhang F*, Wei K*, Slowikowski K*, Fonseka CY*, Rao DA*, et al. Defining Inflammatory Cell States in Rheumatoid Arthritis Joint Synovial Tissues by Integrating Single-cell Transcriptomics and Mass Cytometry. Nat Immunol, Co-first authors.
Fonseka CY*, Rao DA*, et al. Mixed effects association of single cells identifies an expanded effector CD4+ T cell subset in rheumatoid arthritis. Sci Transl Med, 2018  *Co-first authors.
Rao DA*, Berthier CC*, Arazi A*, et al. A protocol for single cell transcriptomics of cells from cryopreserved renal tissue and urine for the Accelerating Medicines Partnership RA/SLE network. bioRxiv, 2018. *Co-first authors
T cell - B Cell Interactions in Peripheral Tissues
Using mass cytometry, we discovered a markedly expanded population of PD-1hi CXCR5- CD4+ T cells in joint tissue from patients with seropositive rheumatoid arthritis. This cell population produces high levels of CXCL13, a B cell chemoattractant, and IL-21, a cytokine that activates B cell differentiation into plasma cells, and these cells stimulate memory B cells to differentiate into antibody-secreting cells in vitro. We propose that this population of PD-1hi CXCR5- CD4+ T cells functions as a peripheral B cell-helper T cell population. We called them T peripheral helper (Tph) cells to contract to T follicular helper (Tfh) cells found in secondary lymphoid organs. We hypothesize that Tph cells are important mediators of T cell-B cell interactions within inflamed peripheral tissues. We are evaluating the ability of Tph cells to stimulate B cell responses using human systems in vitro and murine models of lupus and inflammatory arthritis.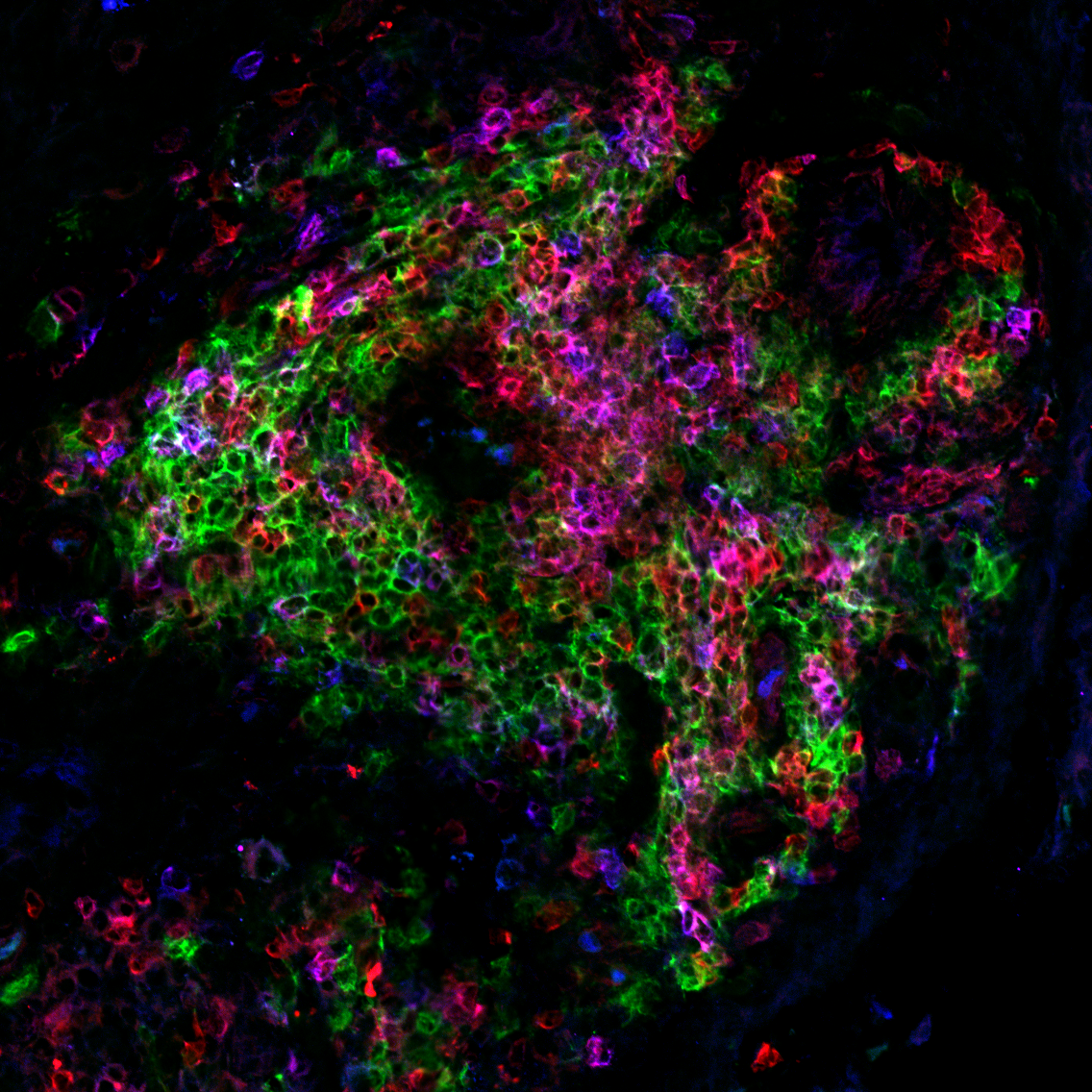 Relevant recent papers
Rao DA#, et al. Pathologically expanded peripheral T helper cell subset drives B cells in rheumatoid arthritis. Nature, 2017.
Rao DA. T Cells That Help B Cells in Chronically Inflamed Tissues. Front Immunol, 2018.
Bocharnikov AV, et al. PD-1hiCXCR5– T peripheral helper cells promote B cell responses in lupus via MAF and IL -21. JCI Insight, 2019.
Marks KE, Rao DA. T peripheral helper cells in autoimmune diseases. Immunol Rev. 2022;307(1):191-202. doi:10.1111/imr.13069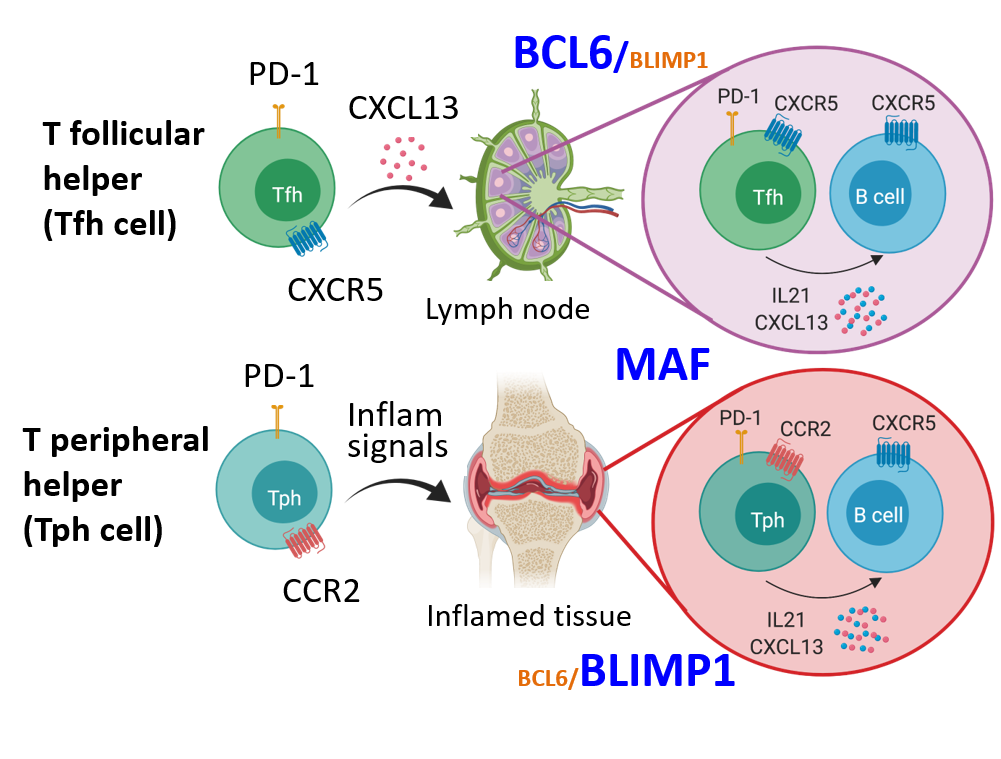 Transcriptional Regulation of T peripheral helper (Tph) Cell
Tph cells are potent producers of factors associated with B cell help, including IL-21 and CXCL13, yet they differ from Tfh cells in key ways: they lack CXCR5, a defining lineage marker for Tfh cells, and they do not express high levels of Bcl6, often considered a master regulator of Tfh cells. The surprising ability of Tph cells to produce IL-21 and CXCL13 despite little Bcl6 suggests that other transcription factors must be important in regulating these functions. We are interrogating multiple candidate transcription factors in primary human Tph cells using CRISPR/Cas9 to define the transcriptional regulation of B cell-helper function in human T cells.